Tonight I went to a book signing to see Tony Curtis.
"Some like it hot" is one of my favorite movies and even though every movie I've seen him in has been an "old movie." I somehow didn't know how to expect him to look physically. Everything I've seen him, he was young and handsome...very handsome might I add. And as everyone stood in line waiting for him to come out, questions were asked about what he would look like and how old he is now. (83 and a half is the answer.) We were warned that he would be coming out in a wheel chair, that we could talk to him but to just understand that he is real hard of hearing. One worker even said, "Glad you could be at this signing, it just may be his last." Hearing all this I thought to myself, "uh oh..this is going to be a really sad one." I almost felt myself mentally preparing for it.
But then things turned around unexpectedly and there was no sadness in the room at all. It was gone.
I saw a great turn out of people not only there to see him but truly EXCITED to see him. 65 year old sisters behind me were turning into 13 year old love struck girls talking about having crushes on him and what would they say when they finally got up to him. The lady in front reminisced of skipping school as a child and watching his movies. We talked about his romance with Marilyn Monroe and skimming through the book looking at pictures of Jamie Lee Curtis as a child.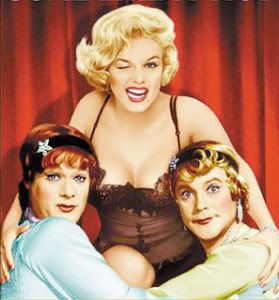 Guys down the way were having their own discussions over Spartacus and Houdini.
I talked mainly with 5 ladies, whose ages spread over 40 years and we were all acting like we were at a slumber party talking about our school crush.
But in the back of my head I kept wondering, "How's he holding up?" Finally they brought him out. He looked....well he looked old... I'm not gonna lie. But this didn't hold me too long because I ended up loving him. I hope if I ever get to be 83 years old that I would be sporting a black leather jacket, and a Beatles T-shirt.
When I finally met him he was just so nice and thankful and I asked if I could get my picture with him. This was a little bit awkward because of his wheel chair but I told the camera man, "Just take it where you are." Right as he is about to shoot the pic on three, Tony reaches over and holds my hand and says, "Come closer to me." A startled me ruins the shot by looking over at him and laughing. I felt like a girl on date in a movie theater who had the "yawn stretch" pulled on her. He continued to hold my hand while we talked and I thought to myself, "I'm holding Tony Curtis' hand right now. The one I've watched for years and year...yeah his!
Life tends to be sad as we age. We no longer look like we once did, our bodies don't feel like they once did and we often think of that next step in life. But I was inspired tonight by seeing a zest, a youthful vibe and and excitement so thick you could cut it with a knife. And all of this was for talented 83 year old man. I'm glad tonight celebrated him! I didn't leave saying, "Poor Tony Curtis..that was so depressing." I left saying, "That was really fun and truly felt like a celebration of his life.
And shouldn't that be what life is about anyway? Regardless of our ages...
Jen
xox