This morning I woke early and began packing my things. I stopped and read the plaque in the room that shares Saint Romuald's brief rule. It says, "Put the whole world behind you and forget it. Watch your thoughts like a good fisherman watching for fish. Realize that you are in God's presence, and stand there with the attitude of one who stands before the emperor." I love this and will take these thoughts back with me long after the retreat.
I left the monastery and decided to make some stops on my way home. (This is partly for the beauty and party because of my motion sickness) Stop 1 happens to be Elephant Seal beach. I read the sign on the beach that explains in January Elephant Seal moms come to the beach and give birth to their babies. They raise their babies until the middle or end of February where they will mate one last time and then leave the kids behind. I watched a beach full of Seals laying the sun and throwing sand on their backs to avoid exposure to the Sun. It amazes me they have these instincts.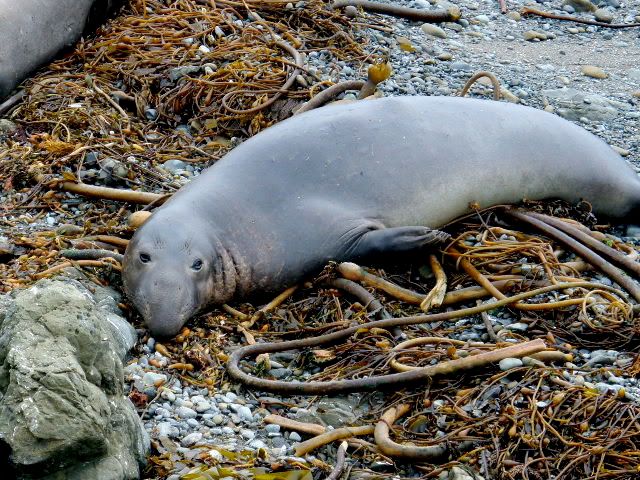 Stop 2 is just a look out off the 1, but a beautiful one it is indeed. I look over the water and it finally happened. I saw the whales! I've been wanting to see them because I've never seen whales in the wild. One time as a child on a family vacation we went whale watching to see…well me throw up I guess….no whales at all (and did I mention this motion sickness☺
Anyhow, back to the Whales. I was expecting maybe just to see some water shoot up, but I let out this giddy scream when I saw a group of whales coming out of the water. Awesome!
I got back in my car and turned on my XM. Louie Armstrong's "What a wonderful world came on." It was cool to drive down the highway listening to that. I drove by Sand Dollar beach and I saw Isaac in the same parking lot. I smiled as I saw him eating lunch and talking to someone new.
"I see skies of blue…. clouds of white
Bright blessed days….dark sacred nights.
And I think to myself…what a wonderful world
The colors of a rainbow…so pretty in the sky
Are also on the faces of people going by
And I think to myself…what a wonderful world"